The Promold Texas Shed offer the best in effective pest control for both cow/calf operations and feedlots. The 'Visual Maintenance' system save you both time and money, because the liquid only dispenses when rotated. This prevents any losses in liquid when cattle are not accessing the oilers.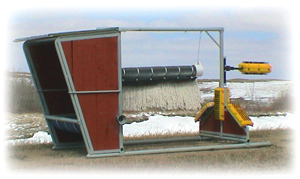 Features of the Texas Shed:
• tough polyethylene canister, eliminates rust, corrosion and leaks
• designed to withstand cold temperatures
• fittings are cooked into canister for additional strength
• built in funnel for less waste and less mess
• tough felt provides longer wear
• mopping applies product evenly on the face, ears, sides and back
• standard 1.5 inch cap
• mounting chains make set up easy
• mineral feeder (mineral or salt) made of tough polyethylene. They resist rust, denting, corrosion, cold temperatures and are high impact resistant.
Two Options Available:
• Standard Outpost (Recommended for 60 cow/calf pairs)
- heavy duty stand
- mineral feeder
- brush off with brush savers
- 4' Buzz Off Oiler
• Feedlot Unit (Recommended for 250 one tonne bulls or 500 yearlings)
- heavy duty stand
- 3 belly brushes with brush saver
- 2 brush off with brush savers
- 2 Buzz Off oilers
The Promold Texas Shed is a trouble free system that saves you time and money. For happier cattle and healthier hides, the outpost is your answer
Nifty Livestock Equipment Ltd. 1999-2005
About Nifty / Feed Equipment / Livestock ID / Handling Equipment / Dealers Page / Contact Us